What we think about Coffee Capsules
Coffee capsules are a great and convenient way to enjoy espresso style coffees in Nespresso™ compatible machines. No fuss, no mess or cleaning up to do. We've always believed that everyone should be free to enjoy whichever coffee capsules they believe taste the best, and pop them into any machine they like. We were one of the first brands in the world with the new generation of Nespresso™ compatible capsules. And for us, choice and access to great coffee is everything.
We know that many small brands with a big coffee-heart think the same. At Jones Brothers we are focussed on giving you as much choice and freedom to explore a world of taste as you want — that's what we're really about. Capsule technology is always changing, so we will always try to bring you the most up to date capsules and new and interesting coffee flavours. Just take a look here at our Limited Edition capsules to see what we mean!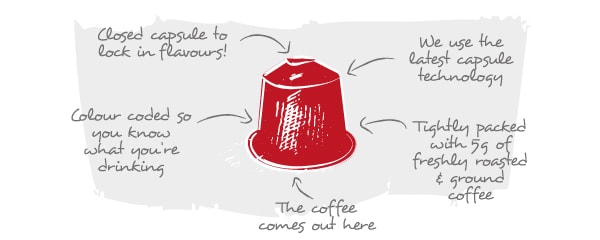 Compatibility with capsule machines
We started using the current generation of capsules in September 2014 and so far we can honestly say we have had 2 complaints about compatibility. That's still not good enough for us.
The 20 second rule: one or two customers have pointed out that our capsules can take longer to pour. Yes, and that's deliberate by us. We want it to take longer so that the coffee that comes out is perfectly balanced in flavor. Any faster, it means that the grinding of the coffee beans was incorrect in our view. So for better tasting coffee, we think it is worth the wait.
Occasionally a capsule will get slightly stuck in the dispenser, but don't panic – just pop it out and into the collection chamber with a teaspoon. It doesn't affect the performance or the warranty of your machine we promise. We're not going to advise you buy any particular capsule machine. But if you do encounter any difficulties whatsoever, no matter whether it's with a Nespresso™ machine or any other, just let us know.
Why do we use extra plastic packaging to wrap our capsules, it's not very environmentally friendly!
You know, we agree! It's not our favourite thing to do. But we are determined to maintain the freshness of our special coffee and at the moment, the only way we can do that is to 'flow-wrap' the capsules in a reduced oxygen plastic pouch. You see, oxygen is a 'coffee killer'. And capsule technology is only now beginning to provide that opportunity to be a complete barrier to oxygen. So we expect to make a change in the capsules we use in 2019. And then, no more plastic wrapping.
The Jones Brothers 100% satisfaction guarantee!
If there's one thing that makes us really unhappy, it's you not being happy with your coffee. We've had many great reviews of the taste of our coffee capsule range so, thank you, all! But please do let us know what you think: the good, the bad, and the ugly in all its detail. Our promise to you is that if you are not happy for some reason with our coffees, we will offer you a no-fuss, 100% money-back guarantee, capsule replacement or other equally nice reimbursement, as quick as a flash!
We work constantly with all our partners to capture a great espresso moment in a cup for you to enjoy every single day. So keep your feedback coming in. We're always listening. And we'll always respond as quickly as we can.