What is better than being able to throw together a quick, simple and delicious cold coffee with ingredients and equipment you have at home? With summer now truly at our door, let our cold coffee be your new morning breeze.
One of our youngest fans, 15 year old Hanisha has written in to us with her suggestion. We've tried it here at Jones Brothers HQ and we like it! It's quick and simple to make and simply delicious to drink.
Fast and Tasty Iced Coffee – By Hanisha Kanani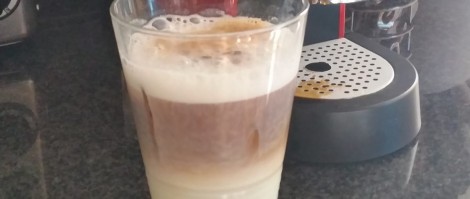 There are several methods to make iced coffee. Some involve fancy gadgets, like a chemex or an aeropress, but you can make equally great tasting coffee without all the fuss. I like the cold brew filter method or espresso based iced coffees, both quick to make and delicious to taste.
The Old Favourite – Simple Espresso Based Iced Coffee in 5 easy steps!
Ingredients (for one person):
3/4 cup milk (200ml)
2 tea spoons sugar
2 espresso shots (I am using my favourite Jones Brothers NOIR capsule
Ice cubes
Equipment:
Nespresso machine or standard capsule equivalent
Measuring jug
Whisk or blender
Instructions: 
1. Combine the milk and sugar in a measuring jug, and froth the mixture using a whisk
2. Fill a cup with 4-5 ice cubes, and add the milk mix
3. Prepare the capsule of NOIR (I also like the new
REVIVE Strong Lungo
)
4. Pour the shots into the iced mixture
5. Stir it all in and …. voila, enjoy your cold iced coffee!
A great alternative is to mix all the ingredients in a blender and adding a scoop or two of vanilla ice cream. Or, for a real treat, I added some of my favourite chocolate bars (such as Bounty), or cookies (such Oreo) or a chocolate brownie. Then to go completely mad, you could top it off with a good dollop of whipped cream or a handful of chocolate chips! Yummy!
The basic drink is delicious, the additions are great too. Whatever you go for, you will not be disappointed.
Believe us Hanisha, we weren't disappointed. Delicious. Great Job!