At Jones Brothers, we want you to enjoy your coffee the way you like it so so we've made sure we have a range of beautiful beans for you to choose from. We always use smooth tasting 100% Arabica beans (as these are the best!) that are either direclty source (for Specialty Grade), Organic Certified or UTZ certified all of which provide sustainable benefits for the farmers, which is something we like – find out what UTZ means for the farmers and for you! Coffee beans are simply the best way to buy your coffee. Coffee is also at its freshest just when you grind it. And who doesn't enjoy the smell of freshly ground coffee?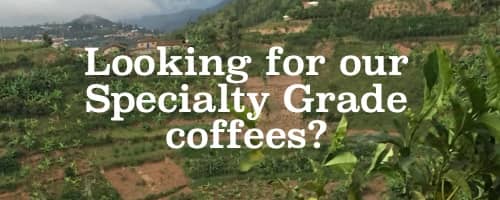 We like coffee beans from all parts of the world – but we especially like beans from Ethiopia and Rwanda, Honduras and Guatemala, Colombia and Brazil. Our wholebean coffees come in two ranges: Specialty Grade Arabica and Premium Grade Arabica. Different single origins and blends, different roasts, different flavours – all really tasty coffees! Perfect for that morning energy boost or an afternoon coffee break at work.
Want more convenience with your favourite drink? We have also developed a range of Nespresso™ compatible capsules. Have a look here.
Premium Grade Coffee Beans
Our Premium Grade espresso coffee beans offer distinctive varieties, strong flavours and a smooth drinking experience.
Read more about how to get the best out of all our coffees with our Brewing Guide or some handy hints of storing your coffee for longer lasting freshness (and it's not by putting it in the fridge!)